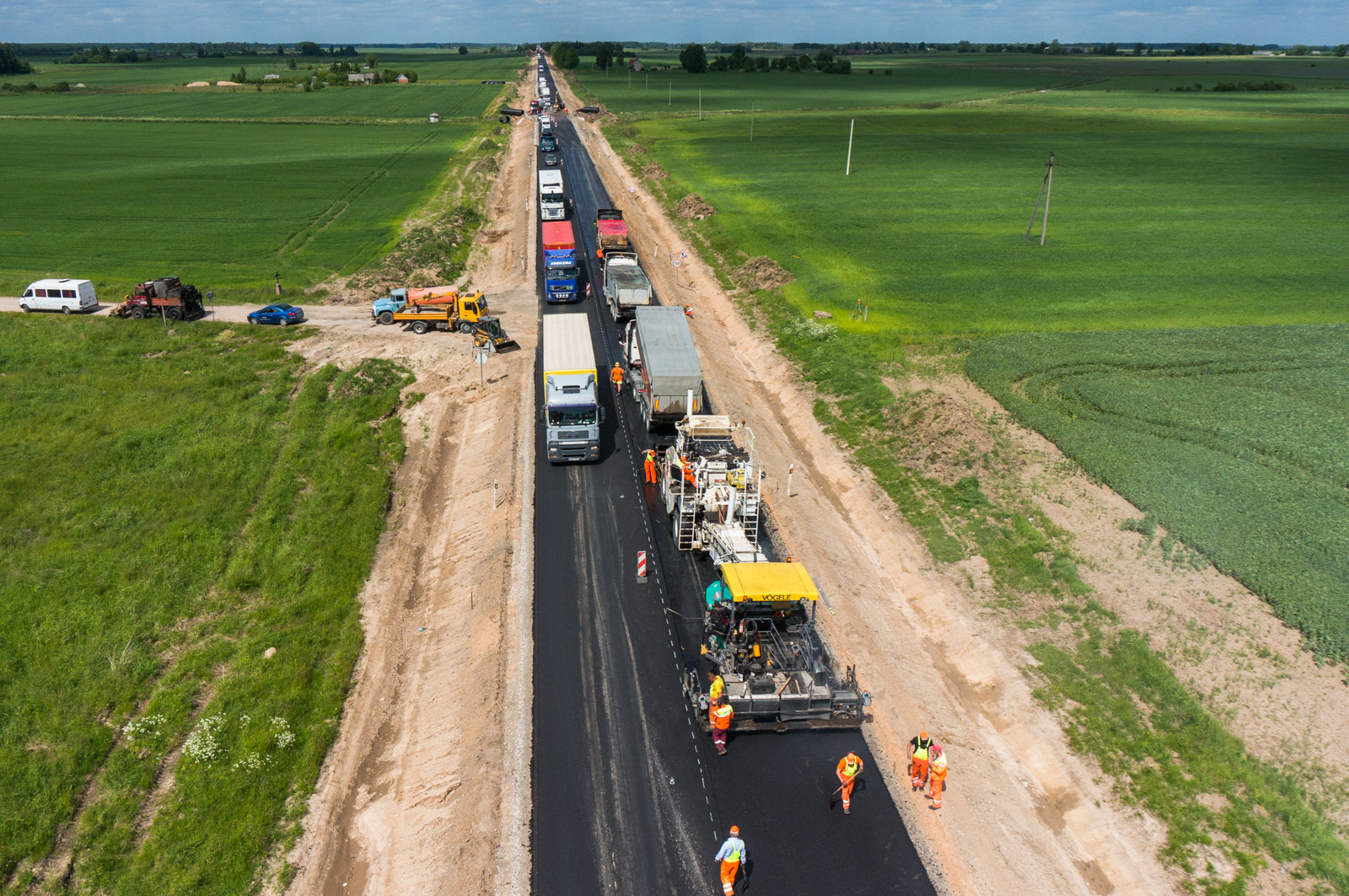 At the start of 2016 AB Panevėžio Keliai finished Via Baltica development works in Panevėžys district. Here the international highway doubles as the national road A8 Panevėžys–Aristava–Sitkūnai. Works were carried out on road section 8.320-23.360 km.
The accident-prone 15.040 km long road section was brought up to EU road infrastructure development requirements and traffic safety standards. The existing 2-lane road is 9 metres wide. Reconstruction works dealt with strengthening of the road pavement and upgrading the intersections. Road width was increased at intersections due to the appearance of additional lanes. Additional safety measures at intersections included raised and well-lit traffic islands for pedestrians. Other works included reconstruction of 8 culverts and 18 bus stops, as well as installation of 1.845 km of new guard rails. New pedestrian and cyclist pathways were built along the bus stops and intersections. A parking lot located at 8.6 km point was renewed and repairs were made on a local road viaduct at 16.44 km point.
The works were implemented under a contract work agreement signed on 24 March 2015 with the Lithuanian Road Administration. The project – "Development of Trans-European Network Road E67 (VIA BALTICA). Pavement Reconstruction. Stage 2".
***
In January 2016 AB Panevėžio Keliai completed the following works on road A6 Kaunas–Zarasai–Daugavpils section 142.000-150.100 km: reconstruction of pavement, drainage channels and engineering networks, construction of bus stops, pedestrian and cyclist pathways, lighting network and installation of environmental safety measures. The road embankment was widened up to 15.2 metres, asphalt-concrete pavement width increased up to 9 metres. Total length of the reconstructed road section is 8.157 km.
Due to the prolonged public procurement procedures the end-of-work date was pushed back to early spring of 2016. Given the climate conditions, AB Panevėžio Keliai organised work in a way that allowed about 90 percent of all tasks to be completed by the end of 2015.
***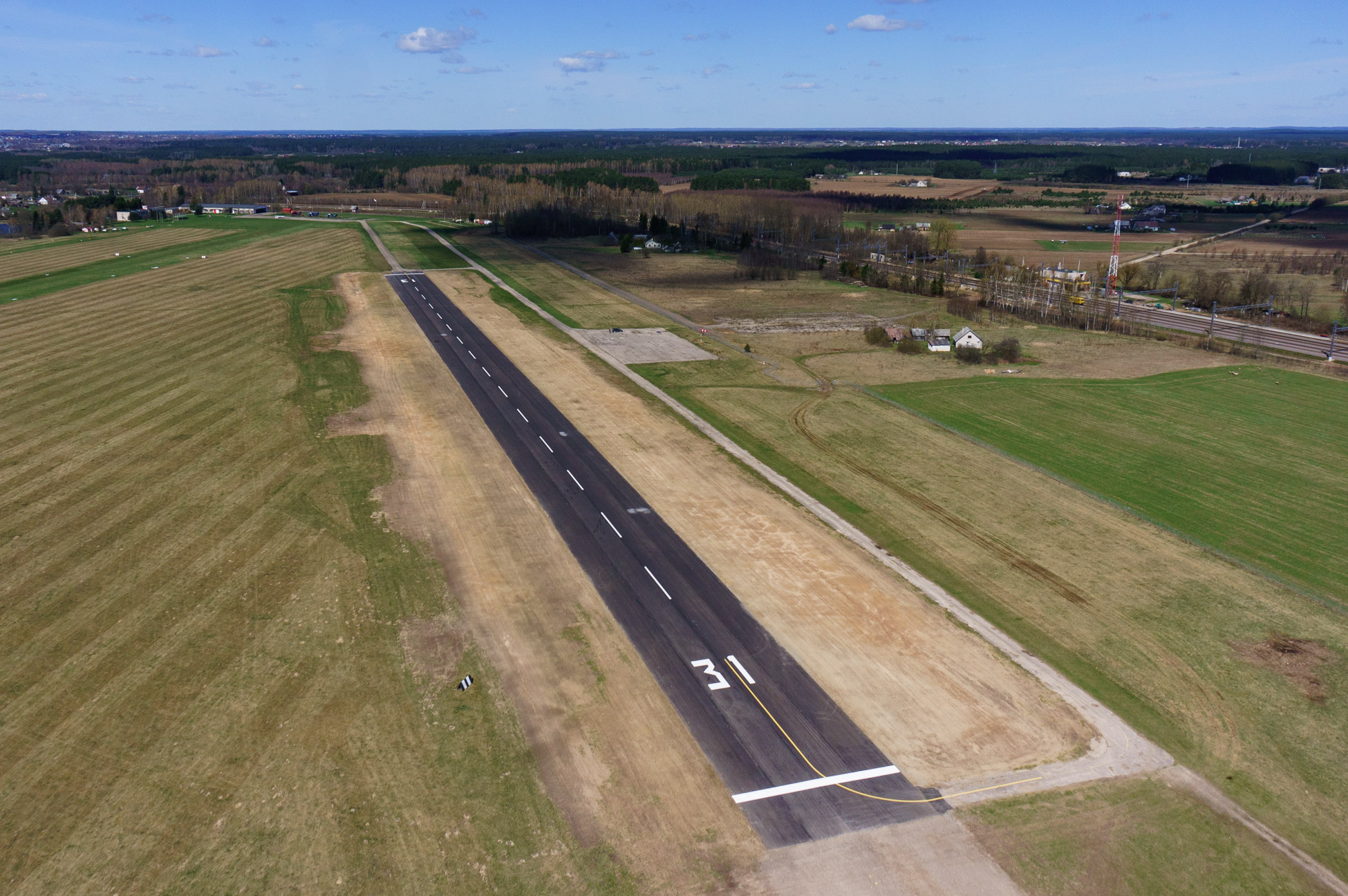 At the start of 2016 AB Panevėžio Keliai successfully implemented major repair works on Kyviškės airfield runway. It was the first time in Lithuanian aviation history when a contract was implemented in accordance with FIDIC Yellow Book requirements.
Construction materials recycled from the old runway makeup were used in the formation of the asphalt-concrete base. Cold-recycled asphalt-concrete mixture was made up of crushed and fractioned recycled asphalt-concrete particles (72 %), gravel from the existing runway structure and binding agents.
The client is Vilnius Gediminas Technical University. At the end of 2016 the project received a prestigious award – gold medal in the Lithuanian Product of the Year 2016 competition.
***
In April 2016 AB Panevėžio Keliai handed over the reconstructed national road No. 115 Ukmergė-Molėtai road sections 2.430-12.850 km and 12.850-19.100 km to the client Lithuanian Road Administration. The company started working on this project on 23 July 2015 and most of the project tasks were completed by the end of 2015.
Project works took place on a 16.67 km long stretch of the road, starting at Ukmergė city boundary and ending at Skuoliai settlement in the direction of Molėtai. The road was widened up to 11 metres, the carriageway – up to 8 metres. The shoulders are 1.5 metres wide. Additionally the company reconstructed intersections and slip roads, built a 214 metres long connecting road in Graužiečiai settlement, pedestrian and cyclist pathways, sidewalks, bus stops and traffic islands.
In order to shorten the project implementation time as much as possible, AB Panevėžio Keliai applied modern technologies that include building information modelling, digital road model and its integration into automated machine control systems.
Contract with the Lithuanian Road Adminstration for the project "Reconstruction of National Roads of National Significance. Contract No. 3" was signed on 13 July 2015. The contractual project duration was seven months, two of which were winter months when it is technologically impossible to execute certain tasks.
This project received a gold medal in the Lithuanian Product of the Year 2016 contest and an award for the use of BIM tools in transport infrastructure.
***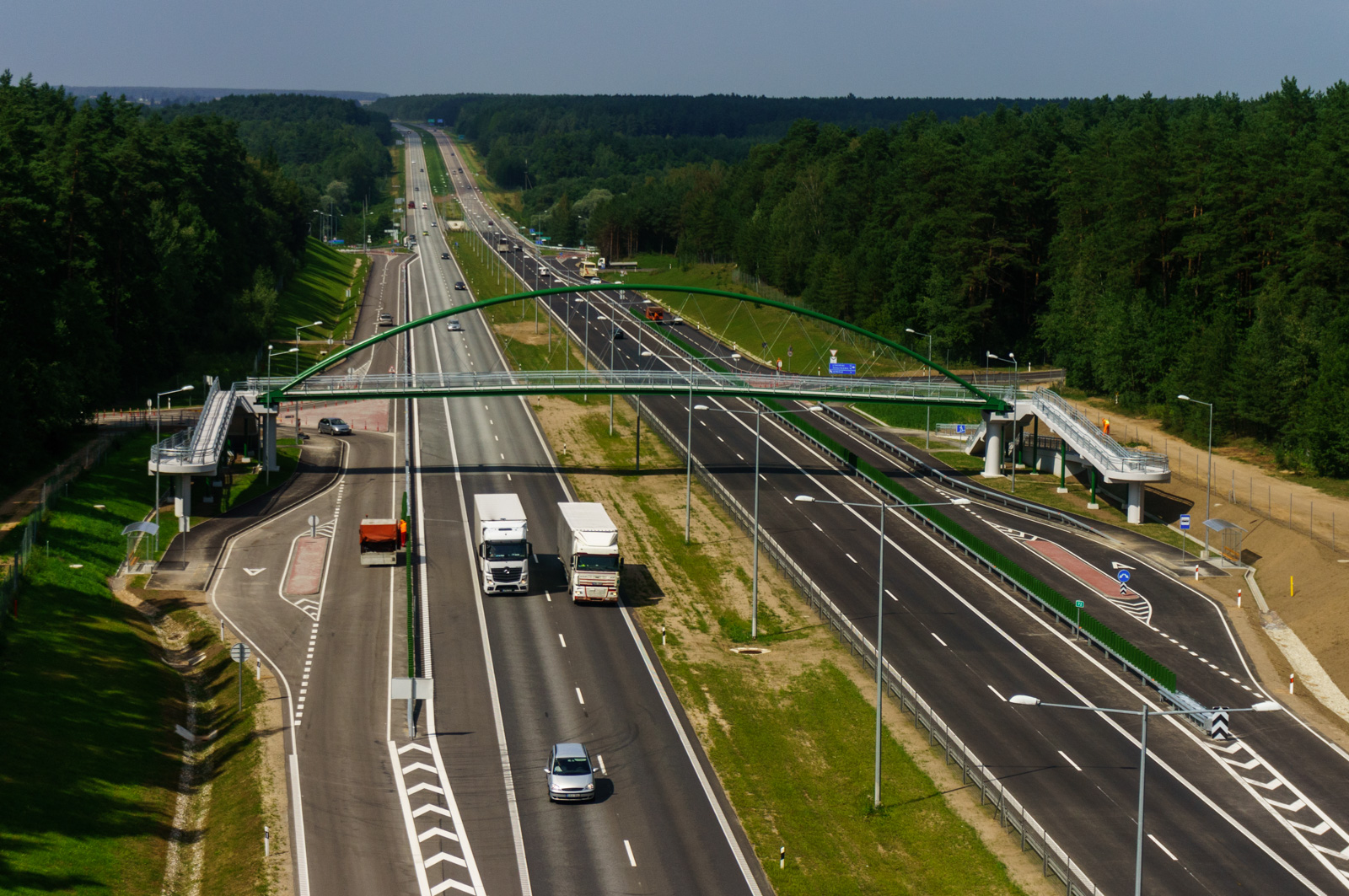 In 2016 AB Panevėžio Keliai completed and handed over an important traffic safety project to the client LRA - "Installation of Traffic and Environmental Safety Measures on TEN-T Roads in 2014–20. Stage 1. Contract No. 2." Project works on highway A2 Vilnius-Panevėžys included the construction of pedestrian overpass at Žemaitkiemis junction, widening of the carriageway and building additional acceleration and deceleration lanes, connecting roads and two roundabout intersections. Works took place on a 1.223 km long stretch of the highway.
Other project tasks were implemented on Via Baltica route. A new roundabout intersection was built at 38.700 km point of main road A10 Panevėžys–Pasvalys–Riga where it is intersected by regional road No. 3101 Pasvalys-Vabalninkas. This roundabout is interesting because of a 5-meter-wide granite paved passageway cutting across the inner island of the roundabout along the A10 route, meant for the use of oversized vehicles.
***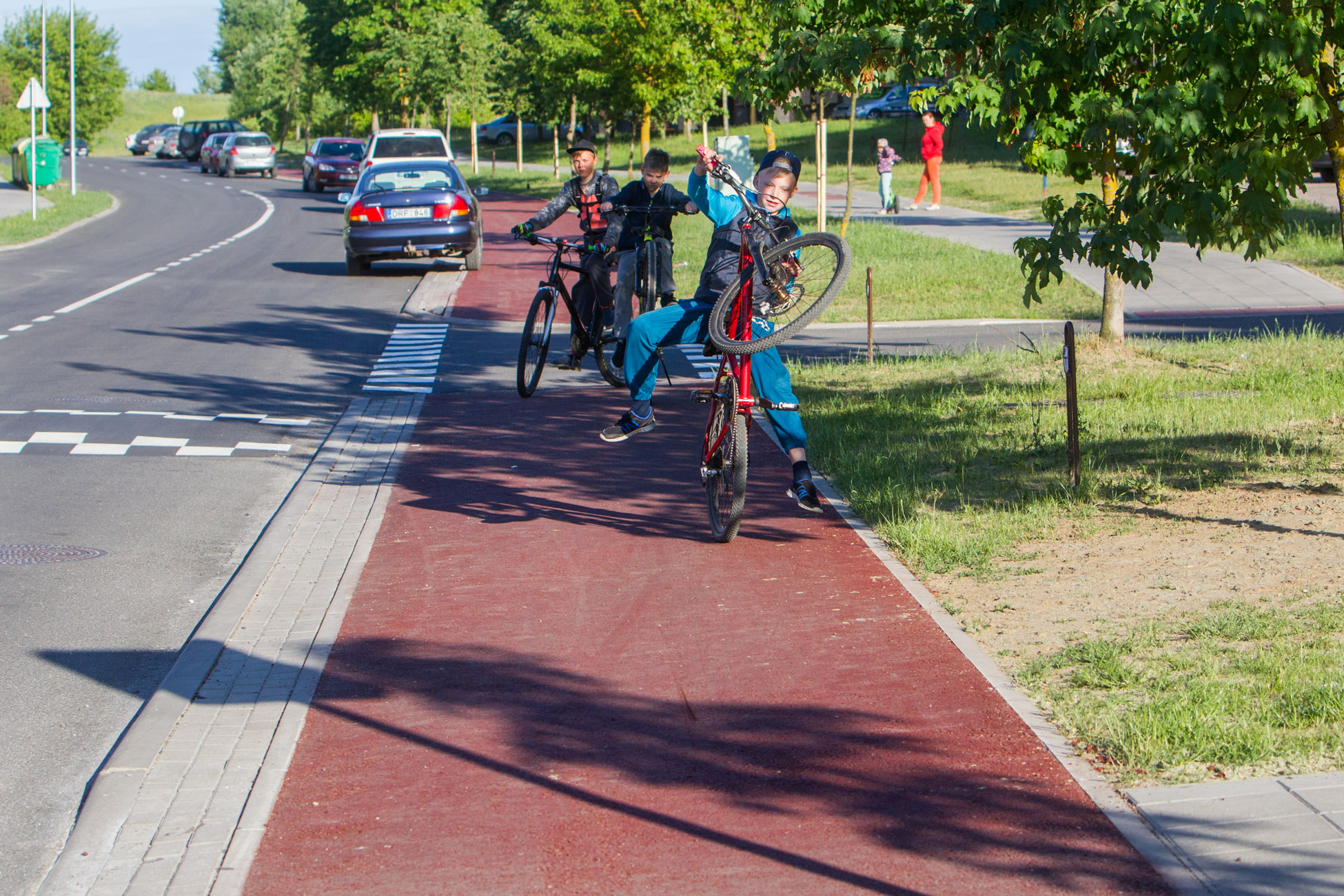 In July 2016 the company completed Žiburio Street reconstruction in Anykščiai town. The street was narrowed down from 10 to 7 metres. The reason behind this development is the construction of a new cyclist pathway on the right-hand side of the street. The pathway is 2 metres wide and its pavement is distinguished by a red hue, produced by adding special pigment to the asphalt-concrete mixture. Concrete kerb and metal guardrails separate the pathway from the street. The client is Anykščiai district municipality's administration.
***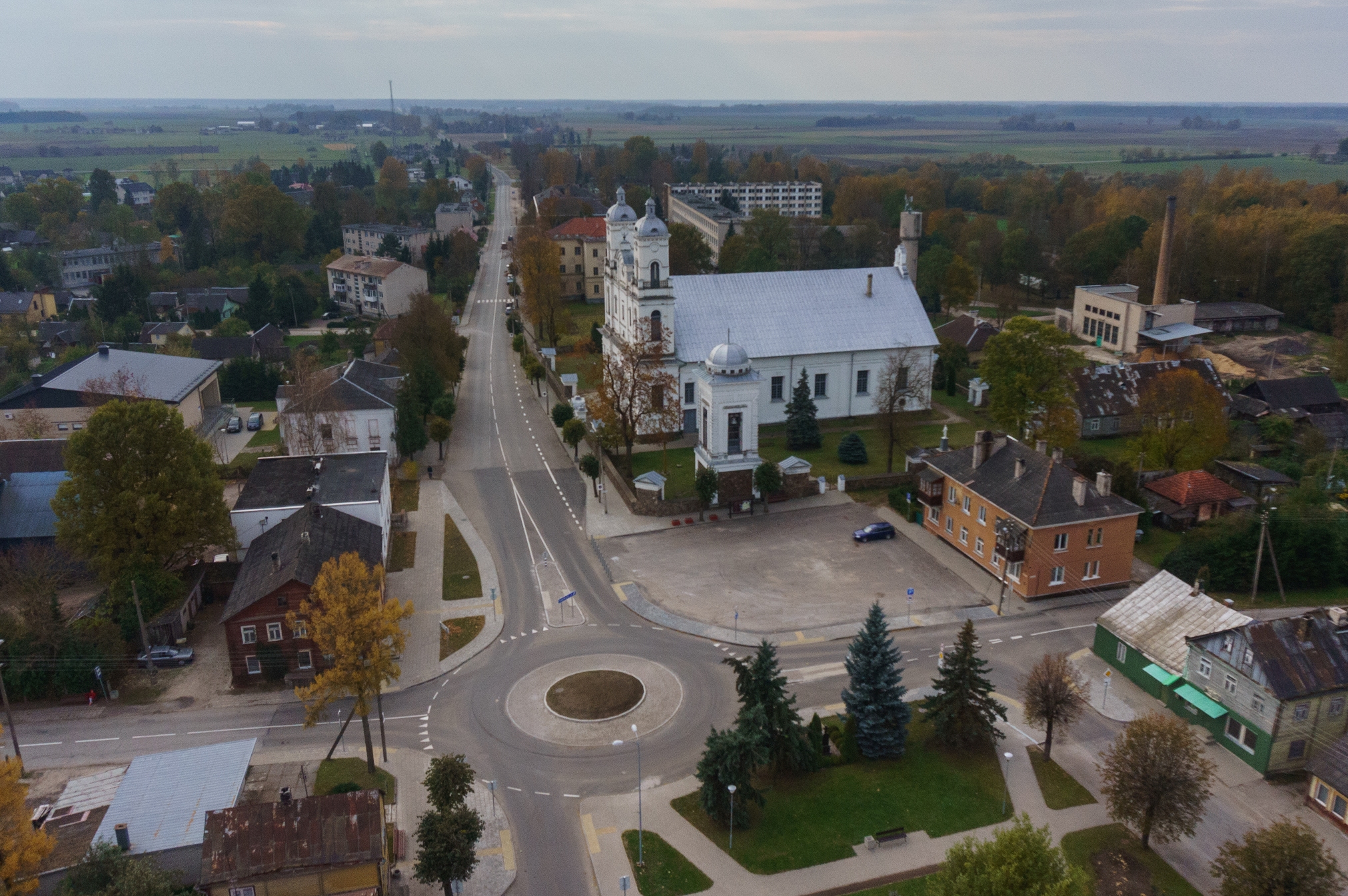 In October 2016 AB Panevėžio Keliai handed over another roundabout intersection, this time located in Vabalninkas town. The client is the Lithuanian Road Administration and the project is "Reconstruction of Intersection of National Road No. 124 Kupiškis–Vabalninkas–Biržai with Road No. 191 Paliūniškis–Vabalninkas".
***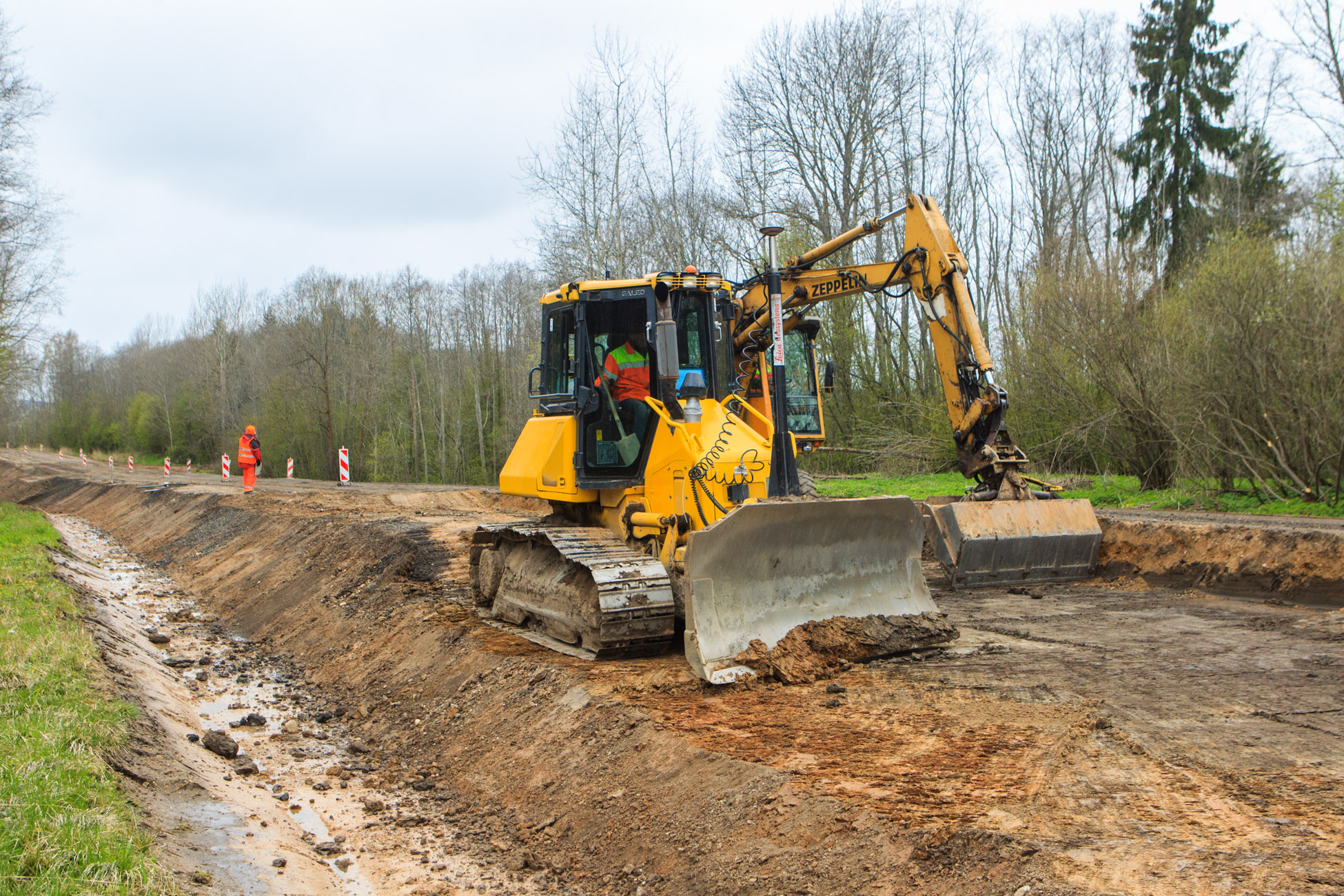 In December 2016 the company's Rokiškis branch finished works on national road No. 122 Daugavpils–Rokiškis–Panevėžys, sections 10.400-15.700 km and 31.550-36.200 km, which included geological survey, economic evaluation, technical work project preparation, project implementation supervision and reconstruction.
***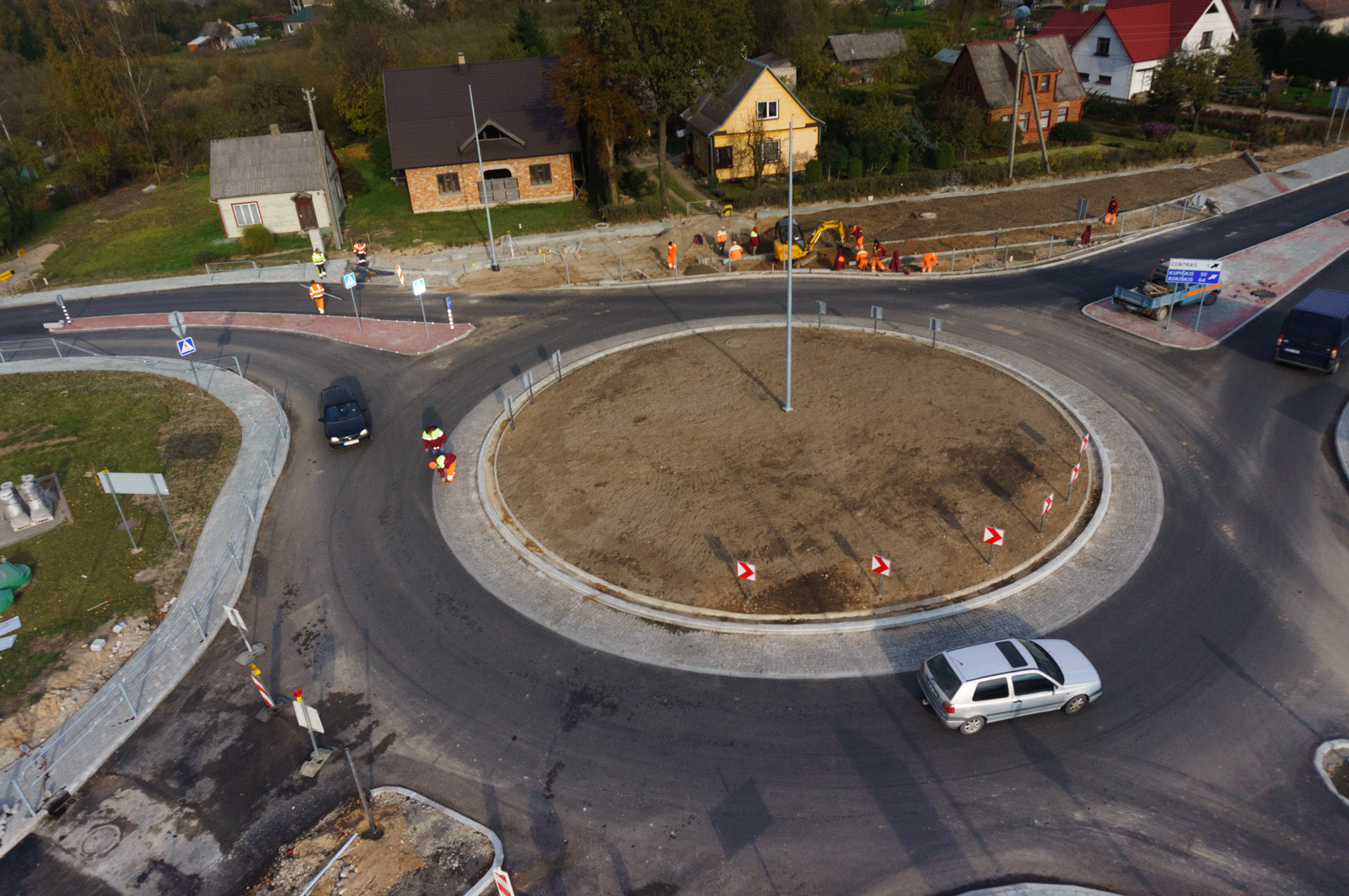 Over the course of the year AB Panevėžio Keliai made significant progress on sections of national road No. 125 Biržai-Raubonys. The first roundabout intersection in Biržai town is nearly completed. The 10-km-long stretch of the road is divided into two sections. The first 0.000-6.980 km section has been undergoing reconstruction since the spring. All major works in this section are almost done. The second section 6.980-10.000 km begins at Pabiržė town and ends at Kirdoniai settlement boundary from Pasvalys side. Technical work project for the second section is being prepared and contract works will begin in 2017.
***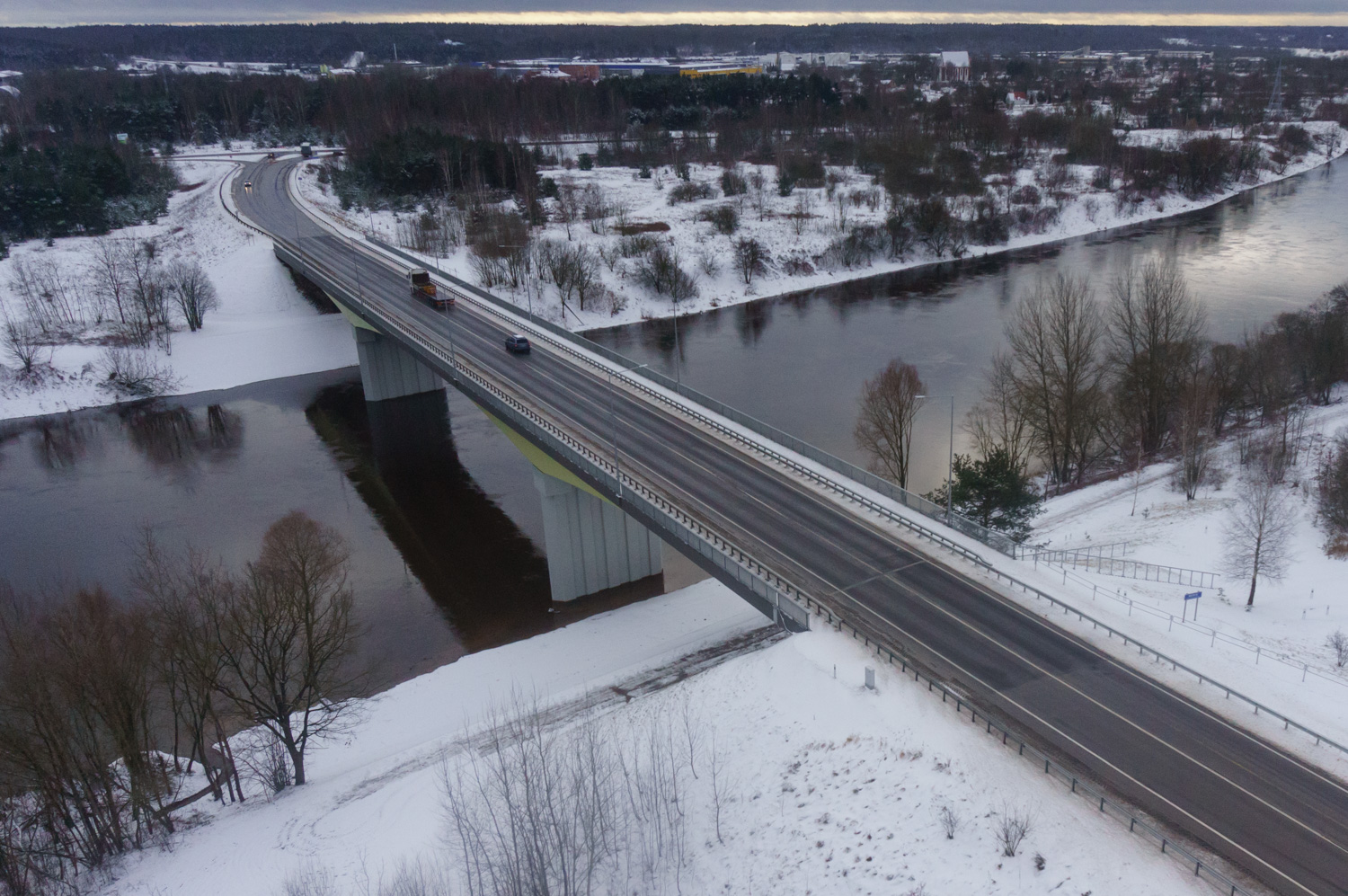 In May 2016 the company finished design work and started major repairs on Neris River bridge located at 34.290 km point of main road A6 Kaunas-Zarasai-Daugavpils began in May. Neris River width at the bridge location is 91 metres. Bridge length between the endpoints of guardrails is 207.83 metres, width – 17.86 metres. After the reconstruction main measurements did not change. End of works originally outlined in the contract work agreement was June 2017, however the company's superior design and work organization methods led to an early finish and project handover at the end of 2016.
***
In the summer of 2016 AB Panevėžio Keliai prepared the technical work project for the first turbo roundabout intersection on Via Baltica route and started the construction works in August. The non-standard intersection will be built at the spot where A17 Panevėžys bypass meets A10 Panevėžys–Pasvalys–Riga road. Intensive roadworks took place at this intersection until the end of the year and the entire project should be completed by next summer.
***
In the summer of 2016 AB Panevėžio Keliai began the reconstruction works on nationally significant road No. 145 Kėdainiai–Šėta–Ukmergė section 41.950-45.177 km. After the reconstruction, the two-lane road will be 8 metres wide. The shoulders will be 1.5 metres wide, except in places where a sidewalk is present. Other works include reconstructing 26 typical driveway aprons, intersections, 8 bus stops. Over 70 percent of all tasks have already been completed as of early November 2016. The project is scheduled to end at the start of 2017.
***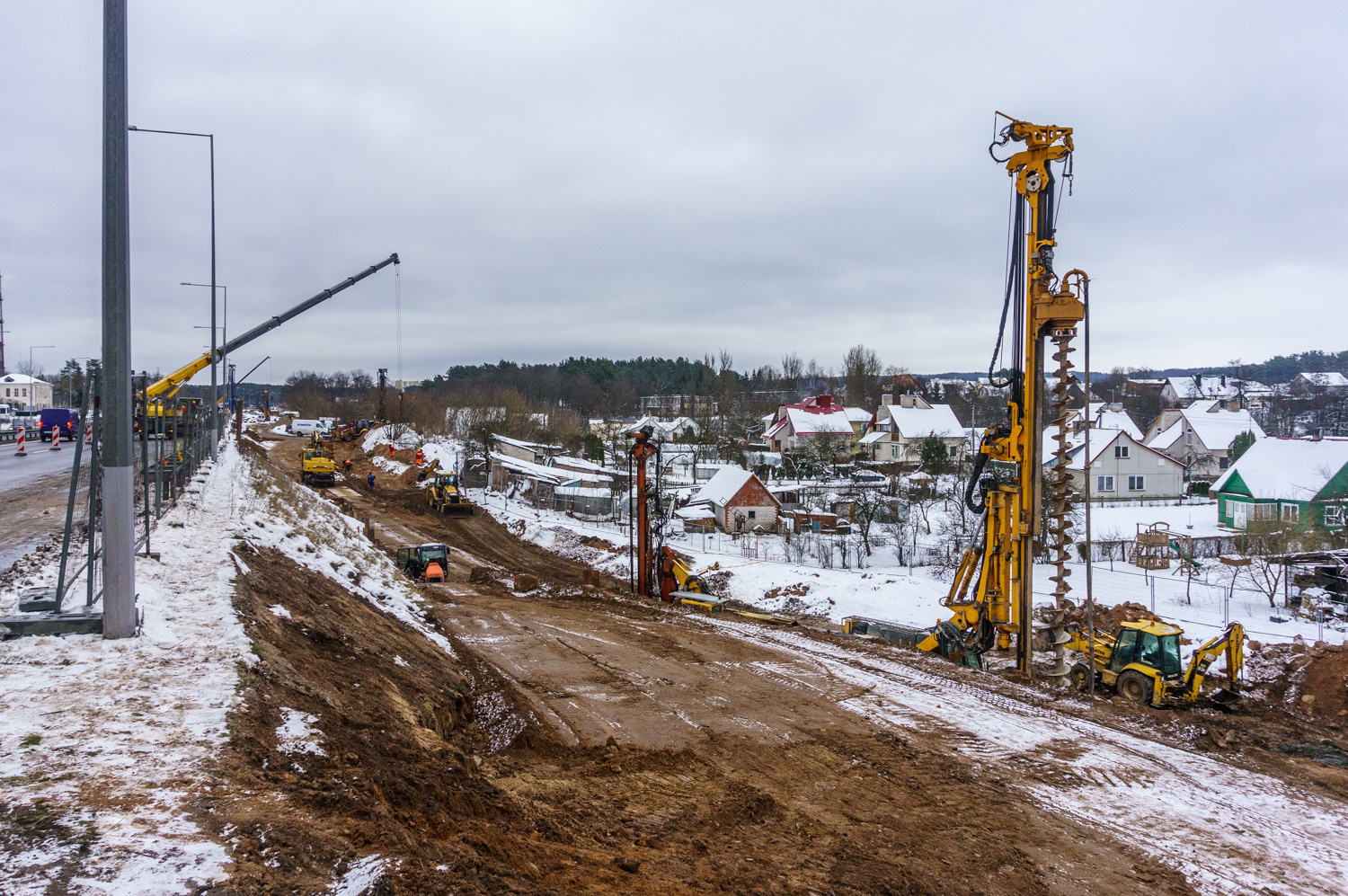 On 8 November 2016 the company signed a contract work agreement for the project "Reconstruction of Trans-European Network Road E85 (Vilnius–Kaunas–Klaipėda). Reconstruction of Grigiškės Transport Junction. Stage 3". The project will be implemented under a partnership agreement between AB Panevėžio Keliai, UAB Aukštaitijos Traktas, UAB Ukmergės Keliai and UAB Sostinės Gatvės. Preparatory works are taking place at the construction site over the winter months, while major works will start in 2017.
***
A number of gravel road reconstruction projects were moved to 2017. During 2016 the company won tenders and signed contract work agreements for the reconstruction of tens of gravel road sections in Utena, Ignalina, Zarasai, Molėtai, Švenčionys, Anykščiai and Panevėžys districts. Several projects have already been drafted and are ready for implementation in the upcoming season. 14 gravel road sections will be paved in Panevėžys region alone, with their combined length of 10.84 km.