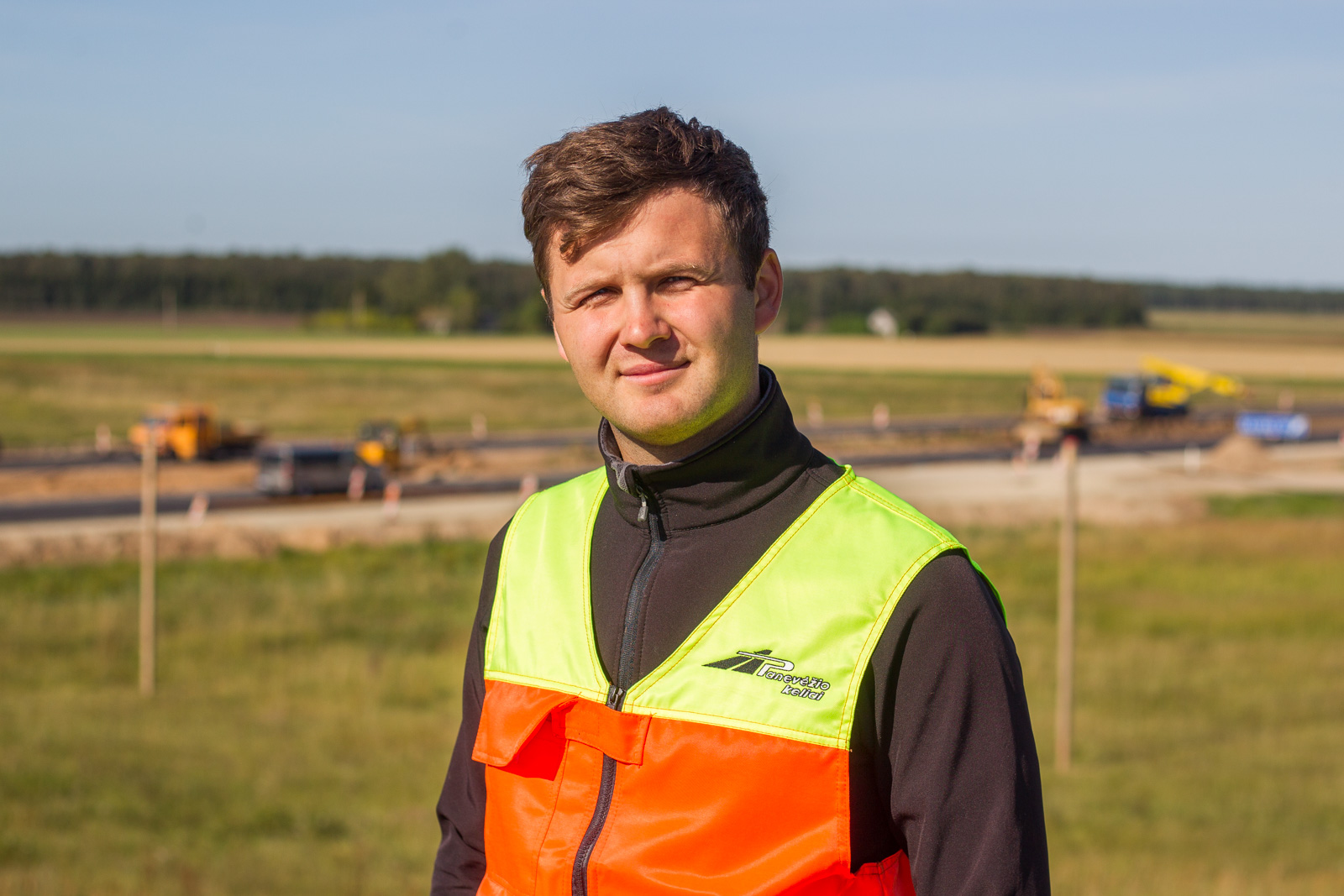 Laurynas Vilėniškis, AB "Panevėžio keliai" works manager
-As long as I remember myself I have always imagined that my activity will be related to construction. But I entered VGTU civil engineering specialization and chose road and railway studiy field. After third year of my studies I went to practice in AB "Panevėžio keliai". Not only because it the company in my home city. This company has a good name, I think many students wanted to work here. So I spent two summer weeks with group of projects management, other two weeks in the laboratory, rest of the practice in the object, on the road. I hae acquired practical experience and new I will start my career as a road worker. In 2011 I graduated my bachelor degree studies and immediately sent my CV to AB "Panevėžio keliai". I was appointed to bridge construction division managed by Mr. Alvydas Makavičius. I am happy about this, because bridge and overpasses construction process is very interesting to me. There are many challenges by terms, deadlines, weather conditions.
I am works supervisor. I have to manage ten, fifteen people. What is their attitude to a young manager? I think positively. We work together quite a long time, I have started my road with these people doing simplest work road jobs, later I have become a managing supervisor. When you work with the same people it happens to say a stronger word, sometimes disagreements happen. But this is natural, everyone has his own opinion, experience. And also those stressful situations. Our team is cool, most are older people. Ten employees are working on the constant basis, a few come for seasonal work. We notice that new people fit here good. A lot of team members are about to retire, I wish they will be replaced by energetic and talented specialists. It is most important to have a patience. You need a lot of patience to survive those long business trips…
Live "on the wheels" or far away from home is an unavoidable part of our work. We have to build various constructions even near the Belorussian border. There are such a distant places that even finding a hotel or place to stay becomes difficult. This way of life makes you tired. The same faces at work and in the evening sometimes do not bring a joy anymore (smiling). I am used to my home, my private space, where I can relax. Those long business trips are not the brightest side of my life. Otherwise I enjoy my profession during the summer. No more monotony – I manage works in the objects, frequently stay in the nature environment instead of office. Now I try to cope with my work and master degree studies at university. It is quite a complicated task-we are building Grigiškiai transport hub. Deadlines as usually are short, but we have to be on time. It is most important the weather conditions allow working and no discrepancies in the project.
Newspaper "Road people" Nr. 32